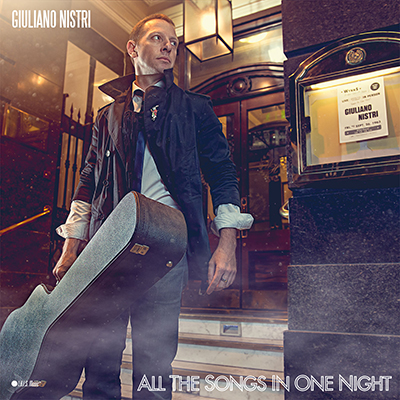 Label:
I.R.I.S. Music - Ireland
Instruments:
Guitar, vocals
Genre:
Modern Singer-Songwriter
European Folk, Chanson, Guitar

Is an Italian/English singer-songwriter of Irish and French descent who lives and writes in Ireland. Born and raised in Rome, he began studying classical guitar around the age of 13 — and cites B.B. King and Prince as an early influences. He was tutored in classical harmony by Carlo Esposito lecturer in Composition at the St. Cecilia Conservatory and attended briefly the Scuola di Musica Popolare del Testaccio and the University of (Jazz) Music in Rome. This was before and after a spell as an officer in the 'Folgore' paratroops, in the 185th Group, stationed in Livorno. He travelled through the U.S., India, Japan and England before arriving in Dublin. Giuliano began his music career as a classical guitar soloist. He later went on to perform in different contemporary and flamenco guitar duos before establishing himself as a songwriter. In 2006 he started airing his new songs and in 2010 he began working on his first album,
All The Songs In One Night
, with producer Pat Donne. Tommy Gray and Dan Callaghan came on board to play rhythm section on the studio recordings while Phil Ware on piano made a wonderful guest appearance on one of the songs. The album has been promoted as
"A collection of heartfelt lyricism and old-school songwriting, delivered as if on the road or by candle-light"
.
Singles from the album are:
All That Ever Happens
,
I Never Meant
,
Said The Sun To The Night
and
Scribbles (Instrumental)
. Giuliano's style has been likened to that of Nick Drake, John Martyn, Richard Thompson, Leonard Cohen and Francesco De Gregori.The album's music was recorded live and entirely acoustic over the course of three days in the Sun Studios in Dublin, with one track recorded live in Ventry Studios, Folkstown.It was released on 7th November 2013 and received a three-star review in the Irish Times on 31st Jan 2014.